"How to give children
the best start...
...and support them in building
a solid
foundation for
lifelong learning
"This amazing journey that we can send our children on by stimulating with as much activity as possible. provides the best conditions for bodily knowledge and lifelong learning"
Only 1 in 12, five year old's can meet the average motor milestones set in the 1980's.
And According to the CDC:
- 1 in 5 children in The US can be diagnosed with a developmental disability
- 1 in 6 meet the criteria for childhood mental disorders
Cause = Parents do to many things with their children which provide a "sit-still-culture".
EFFECT = Children gets problems with learning - some even learning disabilities, and cannot complete even simple every day tasks.
*these are numbers before being caught up indoors due to a pandemic - so it is probably even worse now.
The neurological foundation for lifelong learning is your tool for understanding how important the journey we go on from birth to learning to learn is.
We have made all the complicated super-easy for you to dive into. We present relexes, senses, motor skills, and the development that you - both as a teacher in sports or school and as a parent - must know as much as possible about in order to support the child to thrive and develop as it should. 
We know it might sound harsh, we are parents ourselves.
"We know what this means for families who want the best for their children, which is why we want to help both parents and teachers to gain a lot of knowledge about how we can suceed by working together - qualified knowledge into everyday life about children's motor journey towards mastering their own body. "
Knowledge that must support both in sports contexts - for gymnastics, for swimming, on the playground - and especially training at home on the floor to begin with.
On this online-course you will learn about:
1. The child's reflexes and the work of integrating them
2. The senses and good ideas for working with them
3. Motor development - both the gross and the fine
4. The motor development that boosts children
5. How the brain works with input and processes
6. How to train self-control and social skills
7. Why children, for example, can not sit still on a chair
8. What you can do starting from today...
"This is crucial knowledge for working with children ...
As a teacher, I think it is SO important to know how motor development is connected and how it can be worked on in different contexts.

With this course I got much more than expected, i.a. how I can help the child on the right path or how I can go back and make an exercise easier so that it fits at the right level."
Is this for you?
The course is for you..
working with children aged 0-8 years

who love motor development and want to know all that is behind it

who teach children

who teach sports
who want to understand your child's development

who have a child, who does not thrive

who have a child, who reacts in anger

who have a child, who can not keep up in school or in its development
When you are done with the course, you will be able to....
recognize reflexes and errors of integration
understand the significance of the senses for the child's development
spot where to do something different when some exercises seem too difficult
support both young and old children in the training
guide other parents when something becomes difficult for their children
avoid many conflicts because you know what you are training and why you are training it
be professional as a person of knowledge - and let us together help the children
"This amazing journey, which we can send our young children on by stimulating with the most activity possible, provides the best conditions for physical dexterity and lifelong learning.
We must see the structure as a hierarchy, a system of development, where the foundation must be built "brick by brick" - a solid and well-developed foundation."
"We must understand that the training with our children must be more qualified and far more nuanced, so that we can ensure that they have all the prerequisites to achieve professional skills - children must learn to learn before they go to school"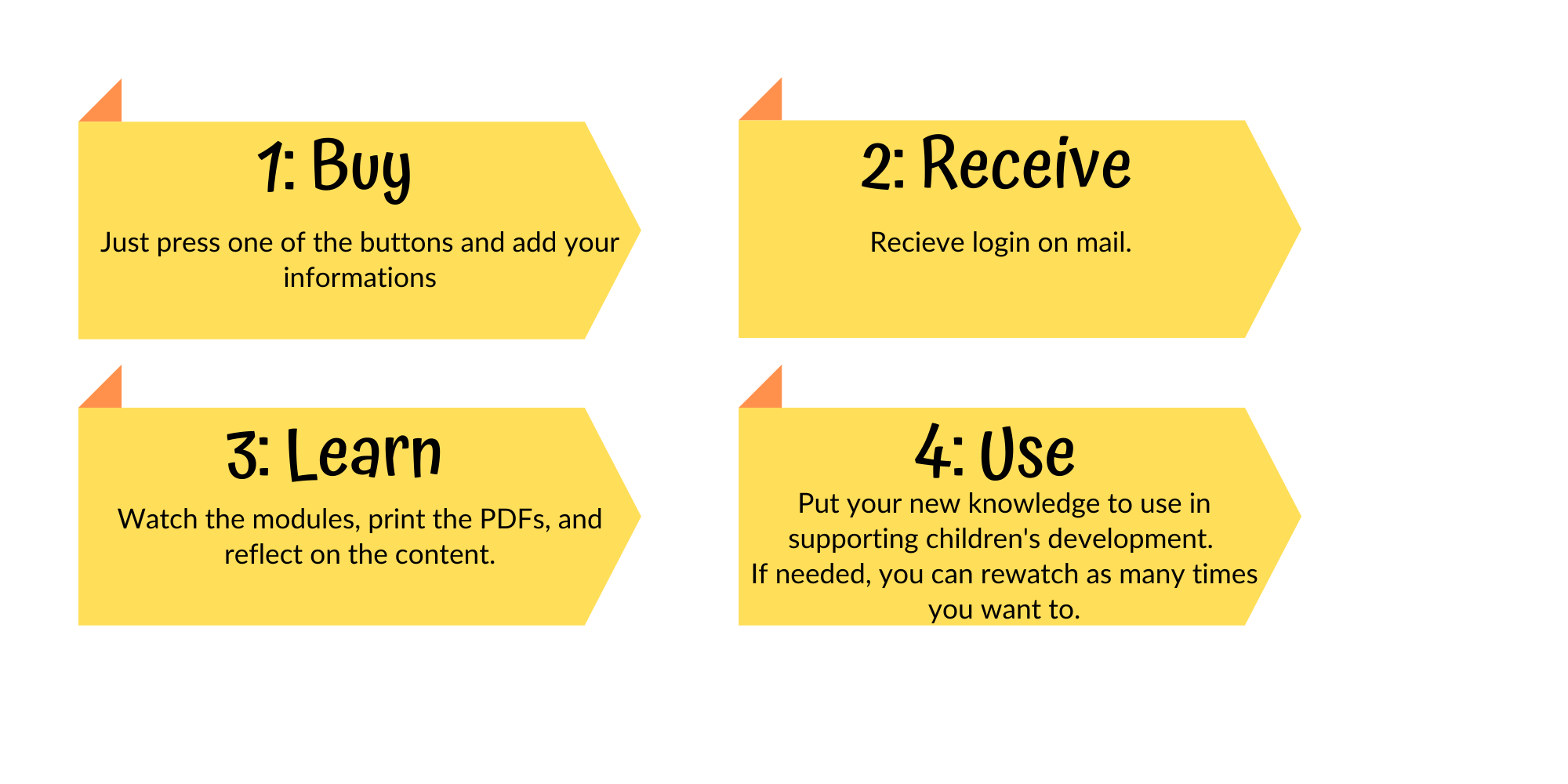 Three arguments for starting now:
1. You want some good background knowledge
2. You are a parent and really want to do better with training and avoid mis-integration happening in your child
3. Our method is well documented and IT WORKS